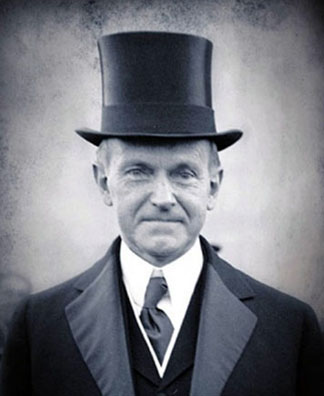 Early in his political career, Calvin Coolidge served as mayor of Northampton in 1909 and then served as a Senator in the Massachusetts state government. From there he served four years as lieutenant governor and was elected governor of Massachusetts in 1918. During his tenure as Governor he gained national attention for his staunch support of law and order.1 A man of few words, he earned the nickname "Silent Cal" as a U.S. Vice President in the very early 1920's.

While Vice President Coolidge was visiting his family home in Vermont in August of 1923, President Warren G. Harding died in San Francisco during a speaking a tour of the Western United States. During the late night hours, Calvin's father, a notary public, administered the oath of office by lamp light. Calvin Coolidge made history as being the only United States President to be sworn into office by his own father.2

As 30th President of the United States, Calvin Coolidge is fondly remembered for restoring dignity to the White House by cleaning up the corruption scandals under Harding's administration.
Coolidge believed that less government interference in business made for prosperity.3 In February of 1924 he became the first president to make a public radio address to the American people.

COOL FACTS
The only President of the United States whose birthday is July 4th.

At 5:00 on Christmas Eve in 1923, President Coolidge lit the first National Christmas tree at the White House.

Signes the Indian Citizen Act on June 2, 1924 which granted citizenship to all Native Americans born in the United States.

Presented the United States Distinguished Flying Cross to Charles Lindburgh for this trans-Atlantic flight in June of 1927.

On October 8, 1927 President Coolidge signed the Radio Act of 1927 to establish order and continuity in radio broadcasting.

"Patriotism is easy to understand in America. It means out for yourself by looking out for your country." – Calvin Coolidge
REFERENCES
1
https://coolidgefoundation.org/presidency/president-calvin-coolidge-life-and-legacy/
2
http://www.history.com/topics/us-presidents/calvin-coolidge

3
http://www.sheppardsoftware.com/History/presidents/Presidents_30_Coolidge.htm